Chris Turner: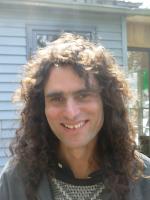 Visual artist, game designer, writer of fantasy, adventure and SF.
Chris is a prolific painter, with nearly a thousand oil art works to his name. He has also been involved in extensive studio recording, guitar and keyboard. After graduating from University of Waterloo in Computer Science he backpacked and biked throughout Europe and Asia before teaching software development courses in Ottawa, Canada.
Chris's other interests are cycling, canoeing, tennis and game development.